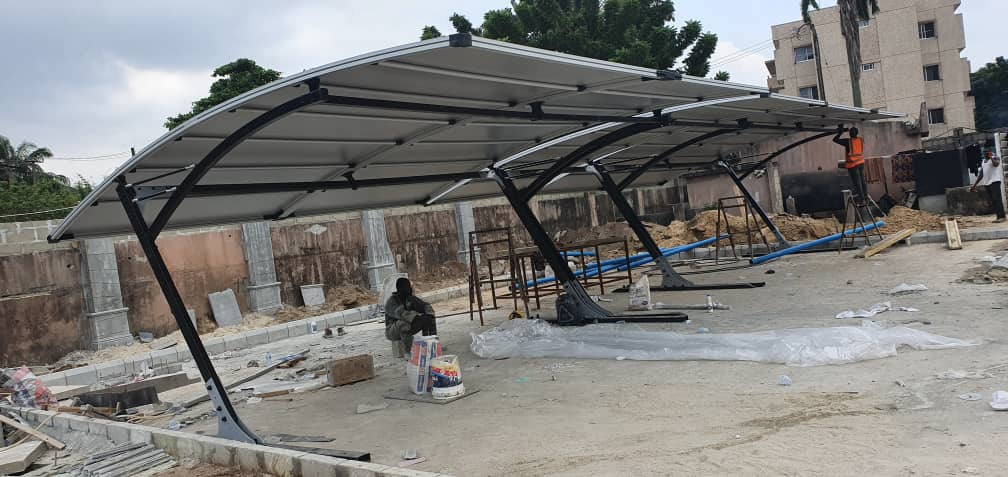 We import and sell foreign carports in Nigeria. Charykel Concepts Nigeria Limited is a Nigeria company with headoffice in Lagos state. We are specialized in the manufacture and assembly of parking canopies. Our company has almost a decade of experience in this sector. Probably you are looking for a more stylish carport from a top carports construction company in Nigeria, then you are in the right place.
We have specially fabricated imported carports designed for people that would rather don their carpark space with uncommon but stylish carports just like the picture shown above. Foreign carports are more aesthetically appealing, classy, stronger and more durable.
We do all the necessary works for the assembling of the parking in the location demanded by the customer, so he only needs to make an order.
Charykel Concepts Ltd offers a full service that includes from the construction of carports to the fabrication of steel for shade purposes: from small private parking canopies to neighbourhood parking canopies to big projects in airports, stations, big companies and malls.
We also develop services like maintenance, substitution and preparation of old parking structures or replacement of spare-parts.
We are direct suppliers, fabricators and suppliers. The materials we offer as well as the people that work with them are fully integrated in our company, so there is no intermediation in the established monetary consideration. This basis allows us to provide the best service with a competitive price to our customers.