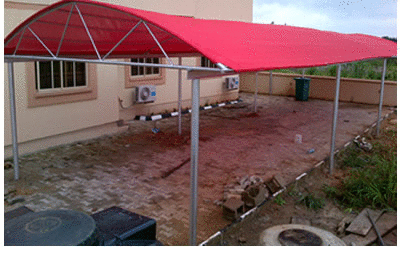 Who we are
We sale, install, maintain and repair high quality shade products in Nigeria that can be customized for your commercial, industrial, agricultural, corporate or residential use. These products include carports, danpalon, tents, canopies, megashades etc. we also sale shade materials including shade nets and polycarbonate
Charykel Concept Limited is headquartered in Lagos- Nigeria's commercial capital but serves a growing customer base nationwide including Abuja and Port Harcourt. We offer the best in shade and weather protection structures in Nigeria and within the West African sub region.
We have a reputation for the excellence of our products as well as our services. As the proven leader in the shade industry, Charykel Concepts Ltd offers products and services that competitors are simply unable to match. With in-house experts in Design, Engineering, Fabrication, Project Management and Construction, Charykel Concepts Ltd is the leader, innovator and the one to trust.
Our Commitment to Our Clients
Our unflinching commitment to our clients/customers is to build shade structures and shelters with the highest quality standards and to provide them at a price that ensures significant value. We're driven to operate with honesty and integrity and to ensure that our customers, in turn, become raving fans of our products
Commitment to product quality, excellence in customer service, giving our customers the best prices is the driving force behind the growth and success of Charykel Concepts Limited, Nigeria. It is our pleasure to attend to each and every detail of your purchase in order to ensure that you are a satisfied customer. Thank you for allowing Charykel Concepts Limited, Nigeria to be your number one shade partner.