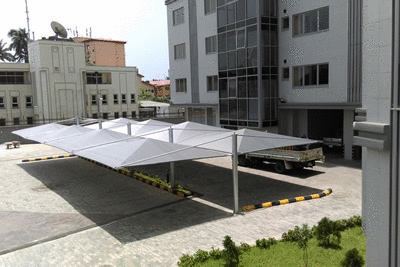 If you are looking for the best carports construction company in Lagos, Nigeria, then you are in the right place. There is one carports construction and installation company in Nigeria that installs and maintains all forms of car shades or motor/vehicle shades-Charykel Concept Limited. Whether you want a single carport or a double carport or triple carport, Charykel Concepts Nigeria Limited is a Nigeria company based in Lagos state and can offer you an extensive array of standard features and customization options for size, roof and door style, and color. We also sale shade nets used as roof cover for carports
At Charykel Concept Nigeria Limited we offer you only the best that is why our carpots are for multiple purposes.
Our carports are ideal for protecting your car and assets. That is because they are the modern day garage and can be installed in just one day only. Charykel Concepts Nigeria Limited's carports are very convenient for your home improvements. They are just what you need to give your home that simple yet modern finish.
With a no mess installation, our carports are absolutely the best for parking areas. Since our carports consist of of long lasting shade materials that repels excess ultra violent rays, it offers you the best shade experience. Charykel Concepts Nigeria Limited's carports are smart for work entrances and reception areas. Therefore they are also perfect for weather-facing areas.
We have three standard sizes.
·               7.5 x 5 m which can contain three cars.
·               5 x 5 m which can contain two cars.
·               5 x 3 m which can contain one car