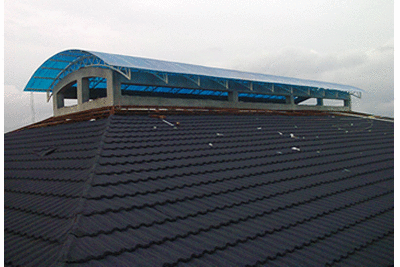 Charykel Concepts Nigeria Limited imports and installs high quality polycarbonate roofing sheets. We make use of only the best danpalon materials there is, so you are guaranteed that you get nothing but the best. DANPALON is manufactured from the highest quality polycarbonate and its performance is certified by rigorous testing from worldwide institutions. It offers a new concept in architectural glazing providing outstanding performance and flexibility in design. Use the Danpallon system for roofing, facades or partitions, both internally and externally.
Polycarbonate is basically a transparent thermoplastic. It is robust and extremely durable and can withstand both low and high temperatures. Danpalon roofing and Danpalon sheeting are stain resistant, non-toxic and is a whole lot lighter as compared to glass. The polycarbonate roofing sheets Charykel distributes in Nigeria can be utilized for both industrial and commercial purposes. The material is versatile which is why you can employ and use it in several ways.
Our polycarbonate roofing sheets come in a wide array of designs; one of which is the twin or double wall construction which is perfect, especially for its insulating advantages. Besides the designs, they also come in several sizes, color, thickness and can be applied in as many ways as possible.